Buyer Information and Response Form

New!

Visit our

Credit Library

for information on raising your credit score, what you should know before using a credit repair company, and much more!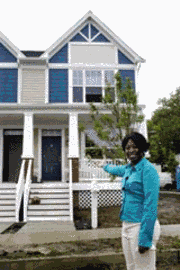 If you're interested in buying a property but think you can't right now, Solutions 3D LLC probably can help. In fact, we can help:
People with damaged or weak credit. Our programs will give you a chance to begin the credit repair process, stabilize your finances, and even save money for a down payment. (If you've recently gone through a foreclosure, we have several programs that may help. Click here for details.)
People with good credit but little money for a down payment. Even in our recent "adjustable rate" and "interest only" loan past, you usually needed a down payment...and 5%-10% on a home costing $300,000-$500,000 or more is substantial. ($15,000-$50,000 to be exact.) And that's not including closing costs, points, pre-paid taxes, and more. Our programs will give you a chance to save for the down payment, all the while watching the equity in your future home climb.
People whose income in a year or two will rise, but who want to buy now. Maybe you're going to be getting out of school or changing jobs, but you'd rather buy now...not wait.
Everyone's situation is different. But, in general, if you can afford standard rent payments (approximately $1,200-$1,400 for a condominium, $1,600-$1,800 for a townhouse, and $1,800-$2,200 for a single-family home) and have $5,000-$10,000 for a move-in fee (which covers the first month's rent, security deposit, with the remainder credited to the purchase price of your new home), then you can afford our lease-option programs.
In any case, please complete the form below and we'll get you started on the path to home ownership.
For currently available properties from Solutions 3D LLC, click
here
.
Privacy Notice: All information you provide will be kept strictly confidential and will not be shared or provided to anyone outside Solutions 3D. We ask for the information below so we can provide you the best service possible .



Solutions 3D
5765-F Burke Centre Parkway, Suite 318, Burke, VA 22015
866-HOME-WE-GO (866-466-3934)