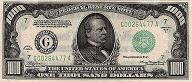 You can earn $1,000 or more just by providing us leads to buyers or properties

Solutions 3D gladly pays referral fees to anyone who refers a property, seller, or buyer to us and with whom we conduct a transaction. We're not able to help everyone, but we'll try. If someone has a home they're trying to sell, we'll try to identify the best way to buy it. If someone wants to purchase a property, we'll try our best to find one from them--either from properties we already have or properties we're able to locate.
If you refer a potential buyer to us, and they buy a property from us, we'll pay you a minimum of $1,000.
If you refer a potential seller to us, and we're able to buy their home--or find a buyer from among our list of buyers--we'll pay you a minimum of $1,000.
We've prepared some marketing tools to help you get started: four "Tenant/Buyer Bonus Certificates" to promote one of our available properties. See below for the details. We also have prepared a "Referral Fee Certificate" for bird dogs and referrers to fill out to help us make sure you receive any referral fees you earn. And we also have a one-page flier promoting our available Reston property.
This document is for "bird dogs" who would like to earn $1,000 or more. It entitles the person who refers a tenant/buyer (a person who signs a lease and a contract for option) to Solutions 3D LLC or who refers a property to Solutions 3D LLC which we are able to place under a lease-option with its owners: $1,000 (or more, at our discretion).

Read the the conditions, complete the "Referrer Data Form," and return it to Solutions 3D LLC. You're on your way to earning $1,000 for each successful referral.

Click

here

or on the pictures to download a printable copy of the documents.

Solutions 3D LLC starts you off with some tools to help market properties. We've prepared four "Tenant/Buyer Bonus Certificates" that do two things: (1) It helps track your tenant/buyer referrals to make sure you receive credit (and your $1,000) for finding a tenant/buyer, and (2) it makes our property and your referral more attractive to tenant/buyers.

Each coupon entitles the tenant/buyer to a reward (for our current available property, it's a $700 decorating allowance, $500 credit toward closing costs, 6 months of paid condo fees, or a weekly large pizza) if they present the coupon. So it makes our properties more attractive. It also tracks your involvement: the coupon is good only if it has a referrer's name on it. So, when the tenant/buyer presents the coupon for the bonus, we'll know to give you credit.

Here's a flier for our currently available 2 bedroom 2 bath condominium in Reston. It has pictures, a description of the condo and its fabulous location, and an explanation of how lease-options and rent-to-buy works. Click on the picture to the right to download a flier you can print out.

Our advice: Attach a "Tenant/Buyer Bonus Certificate" to each flier. Then distribute the fliers to your friends, co-workers, relatives, or anyone else you think might be interested in the property. Make sure you've filled out your portion of the "Tenant/Buyer Bonus Certificate." Then, if anyone decides to sign up with Solutions 3D LLC, we'll know who referred them to us.

Click

here

or on the picture for a downloadable version of the flier.
The documents above are for locating a tenant/buyer for our properties. The form below is for locating properties that would be suitable for lease-options and for identifying tenant/buyers who might not be interested in our available properties. (They want to rent-to-own, but haven't found the right property yet.)
Please complete the form below. Fill in all the information about yourself, and as much information as you know about the potential buyer or seller. It's especially helpful to tell us what the buyer's/seller's situation is, so we can be prepared when we contact them. test



Solutions 3D
5765-F Burke Centre Parkway, Suite 318, Burke, VA 22015
866-HOME-WE-GO (866-466-3934)